Thriving with blindness: surviving really isn't enough
Loss of sight later in life is quite common and can be devastating. Perhaps someone worked hard for decades and recently retired, ready to travel and enjoy the fruits of their labor. Life suddenly throws the person a curveball, and the person loses his or her sight. All too often, the person becomes homebound, afraid or unwilling to venture out. While you certainly want to give the person who is now visually-impaired some time to adjust to the loss, the long-term goal must always be to restore his or her independence. Without this goal, life may spiral downhill for the person, thinking life is not worth living.
Losing your sight during your working years can be incredibly hard. There are myriad enabling and assistive technology solutions which allow someone to return to the workplace but with unemployment for people who are blind or visually-impaired hovering near 70%, it is clear that companies aren't always welcoming. Loss of sight may require career changes even with a willing employer. One person I know was a neurosurgeon when he lost his sight in his mid-40's. He might still be able to teach but he won't be conducting any more surgery. That means a person who loses sight in their working years will have to learn new job skills while also learning new skills associated with vision loss. This would be a daunting task at any age. If that person has a family, then a certain level of helplessness and depression is almost inevitable. The person may go from primary wage earner to unemployed.
As with many things in life, it is important to set a goal or even a series of goals when you or someone you love is losing vision. The choice is yours, but it is my hope that you will set a minimum goal of restoring your independence. Anything less cheats all involved.
I would propose six levels of thriving.
Level I Thriving with blindness: This occurs when you are comfortable traveling independently to familiar locations and completing activities for daily living such as cooking, laundry and the like.
Level II Thriving with blindness: In addition to Level I activities, you are now comfortable traveling to new locations, using unfamiliar means of transportation, and accomplishing discretionary activities. Did you know that there's a Blind Golf Association?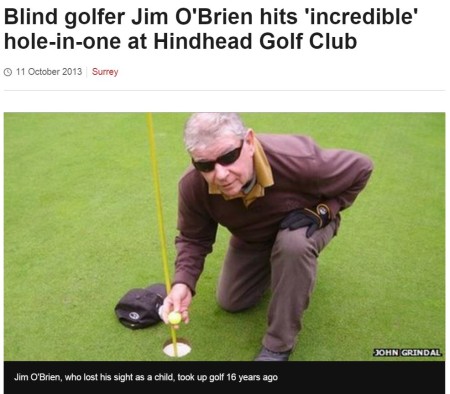 Level III Thriving with blindness: In addition to Level II activities, you have now fully restored quality of life and you're doing everything you did before vision loss. As our clients at the blind association used to say, "I don't want to do things with a bunch of blind people I don't know. I want to do things with my friends!"
Level IV Thriving with blindness: In addition to Level III activities, you have now returned to meaningful employment. While I guess it could occur before Level III, my belief is you'll find a better job if you've returned to a confident, happy state. If you are already retired, perhaps you can volunteer somewhere?
Level V Thriving with blindness: In addition to Level IV activities, you're now doing better than before you lost your sight. Perhaps you've taken on new challenges, overcome previous fears (e.g. become a public speaker), or could say you're happier than you were before vision loss. How is this possible, you might ask? Do you know people who are going through life on auto-pilot? Perhaps they're not happy or maybe each day seems the same as the one before. If we're open to the possibility, losing something may re-engage us in life and help us better appreciate the wonders of life.
Level VI Thriving with blindness: You could enjoy a completely marvelous life without achieving this level but I think it's fun to consider the possibilities. In addition to Level V activities, you have now entered the "adventuring" level of mountain climbing and other extreme activities.
If you want to meet Level VI folks, go to Erik Weihenmayer's No Barriers summit or run an Obstacle Course with OCR Unleashed.